Details

Ciro Migliore
Un film con Sofia Loren e Cary Grant girato 60 anni fa, nel 1958, sarà l'offerta del prossimo cineforum di Lingo, la scuola di italiano di Federica Marchesini, mercoledì 22 novembre al cinema Labia di Città del Capo. Nella locandina tutte le informazioni e di seguito la trama della pellicola.

Houseboat (film)
From Wikipedia, the free encyclopedia
Houseboat is a 1958 Technicolor romantic comedy VistaVision film starring Cary Grant, Sophia Loren, Martha Hyer, Paul Petersen, Charles Herbert, and Mimi Gibson. The movie was directed by Melville Shavelson, who also directed the original version of Yours, Mine and Ours (1968). The love theme "Almost In Your Arms", sung by Sam Cooke and "Bing! Bang! Bong!", sung by Loren, were written by Jay Livingston and Ray Evans.
The plot
For several years, Tom Winters (Grant) has been estranged from his wife and their three children, David (Petersen), Elizabeth (Gibson), and Robert (Herbert). The film begins as he returns home from Europe shortly after his wife's death. The children want to stay in the country with their mother's wealthy family, including her parents and her sister Carolyn (Hyer), but Tom takes them to Washington, D.C., where he works in the US State Department.
The children resent their father, and, at an outdoor concert, Robert runs away. He is found by Cinzia Zaccardi (Loren). She too is running away and is enchanted by little "Roberto" and his harmonica. When she brings him back home, Tom offers her a job as a maid, unaware she is the daughter of a famous Italian orchestra conductor. She eventually accepts.
Carolyn, now divorced from her husband, offers Tom and the children her old guest house, which was supposed to be moved to a new foundation. However, while the guest house is being towed down the road, it is smashed by an Atlantic Coast Line passenger train after the tow-truck driver, Angelo Donatello (Guardino), flirts with Cinzia and accidentally hits Tom's car. Feeling guilty, Angelo sells Tom his leaky, run-down, old houseboat.
Once moved in, Tom discovers that Cinzia is unable to cook, do laundry, or make coffee. Carolyn and others incorrectly assume that Cinzia's relationship with Tom is sexual, while she innocently wins the affection of Tom and the children. Meanwhile, Tom spends his evenings with Carolyn, who is secretly in love with him. On the 4th of July, she tries to embarrass Cinzia by selecting a gaudy dress for Tom to buy for her, but Cinzia transforms it into an elegant evening gown. She looks so beautiful in the gown that Angelo, a confirmed womanizer, cancels a date with her out of a fear of falling in love and proposing to her.
That evening, Carolyn arrives at the boat with Captain Alan Wilson (Murray Hamilton) and his wife. Alan, who is somewhat drunk, jokes about Cinzia's living arrangement with Tom and slaps her on the behind as she serves drinks. She calls him an ill-mannered lout and throws a drink in his face before walking off. Tom asks Alan to leave the boat, but Carolyn takes Alan's side, following which Tom asks all three guests to leave. David cheers Cinzia up, and they make plans to go fishing, but Tom ruins David's plans by inviting Cinzia to the country club dance. Once there, Tom reconciles with Carolyn, and they agree to get married. As he dances with Cinzia, he finally realizes he is in love with her, but she learns of the proposal, becomes upset, and runs away. Tom catches her and breaks it off with Carolyn. A little while later, David unhappily finds them passionately kissing in a rowboat.
The children do not want Tom to marry Cinzia. David calls her ugly, Robert rejects her as a mother figure, and Elizabeth wants to continue sleeping in Tom's bed with him. Discouraged by this, Cinzia returns to her father, Maestro Zaccardi, but Tom follows her and she accepts Tom's proposal after her father (Cianelli) scolds her. The wedding takes place on the houseboat. The children initially refuse to participate in the ceremony, but as it begins, Elizabeth and David join Tom and Cinzia at the altar, and Robert joins them, playing "Here Comes the Bride" on his harmonica.
Write comment (0 Comments)
Details

Ciro Migliore
Thursday the 23rd of November - 19h00
31 Upper Torquay Avenue, Bishopscourt, Cape Town
Book A tavola con Fellini - Ricette da Oscar della sorella Maddalena presented by Francesca Fabbri Fellini, niece of Italian filmmaker Federico Fellini.
Cuisine by renowned Chef Giorgio Nava with recipes taken from the book.

Music pieces from the movies by Federico Fellini performed by Michael Rossi and his group.
***
Menu
Piadina romagnola with whole wheel of Grana Padano Riserva Emilia and hand-sliced Prosciutto crudo
Music: "Amarcord" by Nino Rota, from the movie Amarcord
Onion - onion and potatoes Frittata
Music: "The Clowns" by Nino Rota, from the movie The Clowns
Broth - tomato Cappelletti
Music: "La Dolce Vita" by Nino Rota, from the movie La Dolce Vita
Fellini's Mum Meatballs
Music: "Il Bidone" by Nino Rota, from the movie Il Bidone
Tuna Polpettone with stewed green beans
Music: "Otto e Mezzo" by Nino Rota and E. Fornai, from the movie 81/2
Zuppa Inglese (Italian trifle) – Chocolate Pudding
Music: Love Theme from "La Strada" (Traveling Down a Lonely Road) by Nino Rota, from the movie La Strada
Coffee
Music: Fellini's Waltz by Enrico Pieranunzi
Write comment (0 Comments)
Details

Ciro Migliore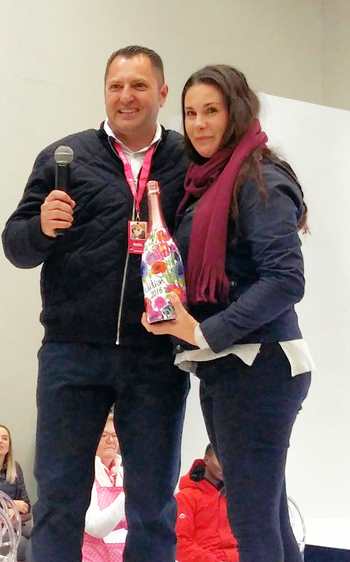 Il Convention Centre di Città del Capo ha ospitato nello scorso fine settimana l'annuale Wedding Expo,importante punto di riferimento per chiunque stia preparando un matrimonio. Visitatori quasi al cento per cento del gentil sesso e naturalmente fra gli stand più visitati quello delle bollicine per i tradizionali brindisi alla felicità degli sposi. E lì, proprio nel centro del salone, lo stand più visitato e praticamente "assediato" della mostra, quello del Prosecco Valdo allestito dalla Prosecco Sud Africa, ditta importatrice del vero Prosecco di Valdobbiadene, come dice il suo nome, e di numerosi altri vini italiani, sul mercato da meno di un anno ma già ben affermata grazie alla solerte e intelligente campagna di penetrazione organizzata e diretta dai suoi direttori, i fratelli Alessandro e Cesare Valenti (nella foto con le loro collaboratrici all'Expo).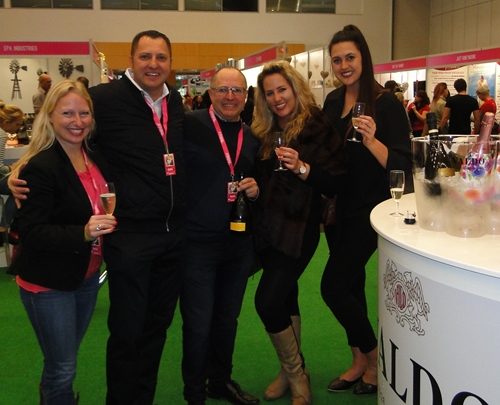 Le due giornate di vita della Wedding Expo sono state intense e interessanti, particolarmente il sabato intorno a mezzogiorno, grazie alla sfilata degli abiti da sposa e di quelli delle amiche della sposa, nonchè dello sposo e dei compari, fino alla presentazione di un terzetto di cani-guida, ai quali era destinato il ricavato di una campagna raccolta fondi abbinata alla fiera del matrimonio. Interviste a personaggi importanti di questa giornata fondamentale nella vita di ogni giovane donna e fra gli intervistati anche Cesare Valenti, il quale ha parlato delle terre dove nasce il Prosecco e ha illustrato le caratteristiche del prodotto che è riuscito nell'impresa di scalzare lo champagne francese dal primo posto della classifica mondiale delle bollicine. Infine ha consegnato una magnum di Valdo, nella già famosa bottiglia decorata con motivi floreali alla vincitrice del concorso a quiz fra le visitatrici della Wedding Expo.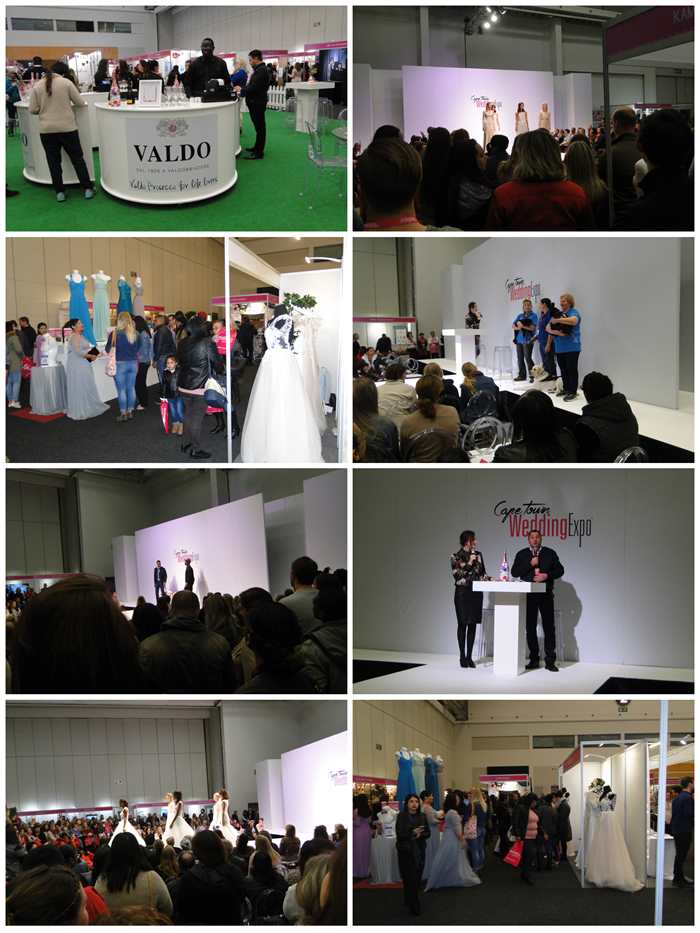 Write comment (0 Comments)
Details

Ciro Migliore
Torna Italian Film Focus al Labia di Città del Capo. I film in programma sono otto, ciascuno dei quali sarà proiettato due o tre volte nell'arco dei sei giorni della rassegna, dal 28 novembre al 3 dicembre. Queste le pellicole in tabellone:
1) LA GATTA CENERENTOLA di Rak (animation, festival di Venezia 2017, sezione Orizzonti)
2) L'ARTE DELLA FELICITA di Rak (animation, European Film Award for Best Animated Feature Film 2014)
3) BRUTTI E CATTIVI di Cosimo Gomez (festival di Venezia 2017, sezione Orizzonti)
4) L'ORDINE DELLE COSE di Andrea Segre (festival di Venezia 2017, evento speciale)
5) UNA VITA IN COMUNE di Edoardo Winspeare (festival di Venezia 2017, sezione Orizzonti)
6) TUTTO QUELLO CHE VUOI di Francesco Bruni
7) DOPO LA GUERRA di Annarita Zambrano (Festival di Cannes 2017)
8) TULIPANI di Van Diem (Festival di Toronto 2017).
Write comment (0 Comments)
Details

Ciro Migliore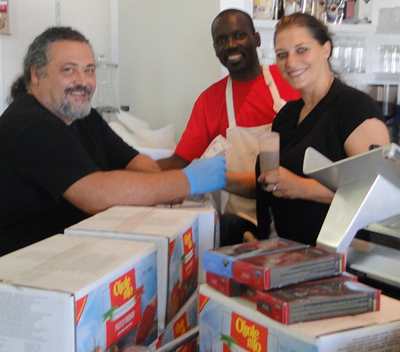 Negli ultimi giorni è stato gradualmente aperto al pubblico, e adesso è aperto sette giorni su sette, l'Ital Emporio di Parklands, frutto della voglia di crescere e di innovazione di Davide e Ursula Ostuni, i quali, dopo aver resuscitato Puglia Cheese, hanno voluto colmare una lacuna nell'offerta alimentare ai residenti e in particolare agli italiani delle nuove e vecchie aree residenziali che vanno da Milnerton a Big Bay, fra la strada litoranea, la R27 e la Koeberg Road.
Il loro negozio, oltre ai prodotti del vicino caseificio, offre tutti i classici della cucina mediterranea, dalla pasta all'olio d'oliva, più una scelta di prodotti dell'agricoltura biologica, più un'oculata selezione di prodotti alternativi oggi sempre più ricercati da quanti si rendono conto che tutte le diete hanno lacune che possono essere colmate con integratori naturali. L'angolo dei prodotti agricoli è all'origine dell'aggiunta "Green Life" nel nome del negozio.
Nell'angolo del caffè si può gustare un ottimo espresso all'italiana eci sono anche diversi tavolini se si vuole fare colazione, sia che si desideri soltanto un cappuccino con il cornetto o se si abbia voglia di un bel panino imbottito.
L'Emporio si trova nel Leonardo Park di Riccardo Scarpellini, giovane costruttore che non soltanto ha realizzato grandi opere in tutta quella zona ma possiede anche un'azienda agricola modello nell'area di Philadelphia, dalla quale provengono l'olio d'oliva e vari altri prodotti in offerta all'Ital Emporio.
Al Leonardo Park si arriva facilmente, da Città del Capo, percorrendo la R27 fino al primo semaforo dopo i centri commerciali di Tableview. A questo semaforo svoltando a sinistra si imbocca Porterville Road e si va verso la spiaggia di Blaauberg Strand, mentre svoltando a destra, nella Link Road, si va verso Parklands. Il Leonardo Park è sulla sinistra qualche centinaio di metri più avanti, all'incrocio della Link con la Main Road. Parcheggiare non è mai un problema e non costa niente.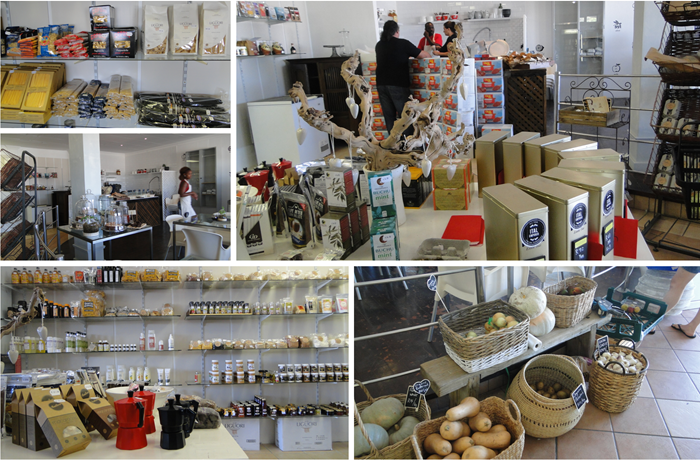 Write comment (1 Comment)